Rachel Julian is a Professor of Peace Studies at Leeds Beckett University, UK
Professor Rachel Julian is an internationally recognised researcher working on Unarmed Civilian Peacekeeping/Protection and the way we recognise the lives and voices of those affected by violence and crisis. Her work challenges the widespread acceptance of violence in International Relations and the assumption that peacekeeping requires soldiers.
In working with community partners in South East Asia and East Africa, Rachel has explored how civilians protect one another from violence, increase their capacity and agency to act, the voices of survivors in influencing policy and how a nonviolent feminist analysis generates creative approaches in the midst of complex challenges.
Rachel's interdisciplinary research uses arts, creative and technology methods and is widely published and funded through research grants from AHRC-UKRI, Global Challenges Research Fund, British Academy and United States Institute for Peace. She is working in three international networks and regularly presents her research at international conferences. She has been invited as an expert to speak at a UN meeting and German Parliament sub committee and is always interested in new and exciting projects and methods.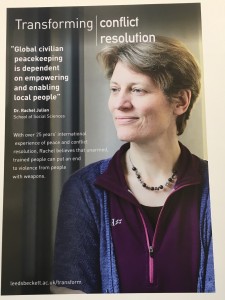 "I work to promote nonviolence, community development and unarmed civilian peacekeeping.
My inspiration is from the people I see working hard every day to bring justice and peace in local places.
I have spent over 30 years working for Peace, including CND, Nonviolent Peaceforce, Sellafield Peace Camp, Peace Education and Community Development.
In 2013 I was awarded Community Champion Award at Halifax Courier Community Spirit Awards.
In 2014 I was awarded the ICNC Curriculum Fellowship in civil resistance and in 2016 the ICNC are bringing an international seminar on Civil Resistance to Leeds Beckett University."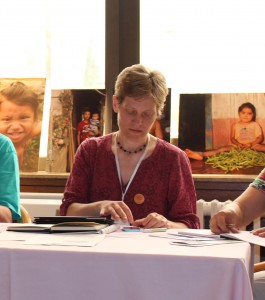 Her research has been funded by Leeds Beckett University, AHRC and JRCT.