Call for research information: Have you peacefully protested on privately owned land or buildings in the UK and been asked to leave? If so, would you be able to tell me about it so I can gather a picture of the issues raised?

I am researching the way in which changing ownership of land and buildings in the UK, that can look like public space or public buildings, is having an effect on the 'right to peaceful protest'.
I have anecdotal stories and information, and some from my own experience, but I am interested to know how widespread the issue is, and if it is having a wider impact on peaceful protest that we don't yet know about. Examples include the Occupy camp being moved off the privately owned 'public space' in the City, or rules about not being able to protest in privately owned shopping centres.
I have spent most of my life as a peace activist and organiser and currently teach Peace Studies at Leeds Beckett University. I want to write and talk about the impact of increasing private ownership of land on peaceful protest and the 'right to peaceful protest'.
To take part in this research I am looking for people who have one or more experiences of peaceful protest on private land (buildings, shopping centres, 'public space', etc) who would be happy to share that experience and tell me about what happened and any other impacts or opinions you have about it
To share your experiences we can either meet in person, by phone/skype, or correspond by email. Participation is entirely voluntary and you can withdraw at any time. I am only collecting information about the circumstances and experiences of the protest not about you.
By sharing your experiences you will be helping to build a better picture and understanding of the impact of increasing sale of public land into private ownership.
If you would like to join in, and be able to meet in person, by phone or email please let me know and contact me before December 31st 2016.
My contact details are:
Rachel Julian
Leeds Beckett University
R.julian@leedsbeckett.ac.uk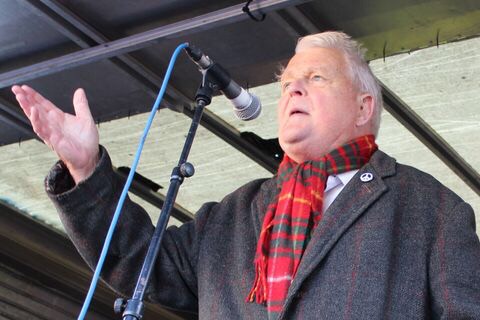 Bruce Kent speaking for nuclear disarmament.